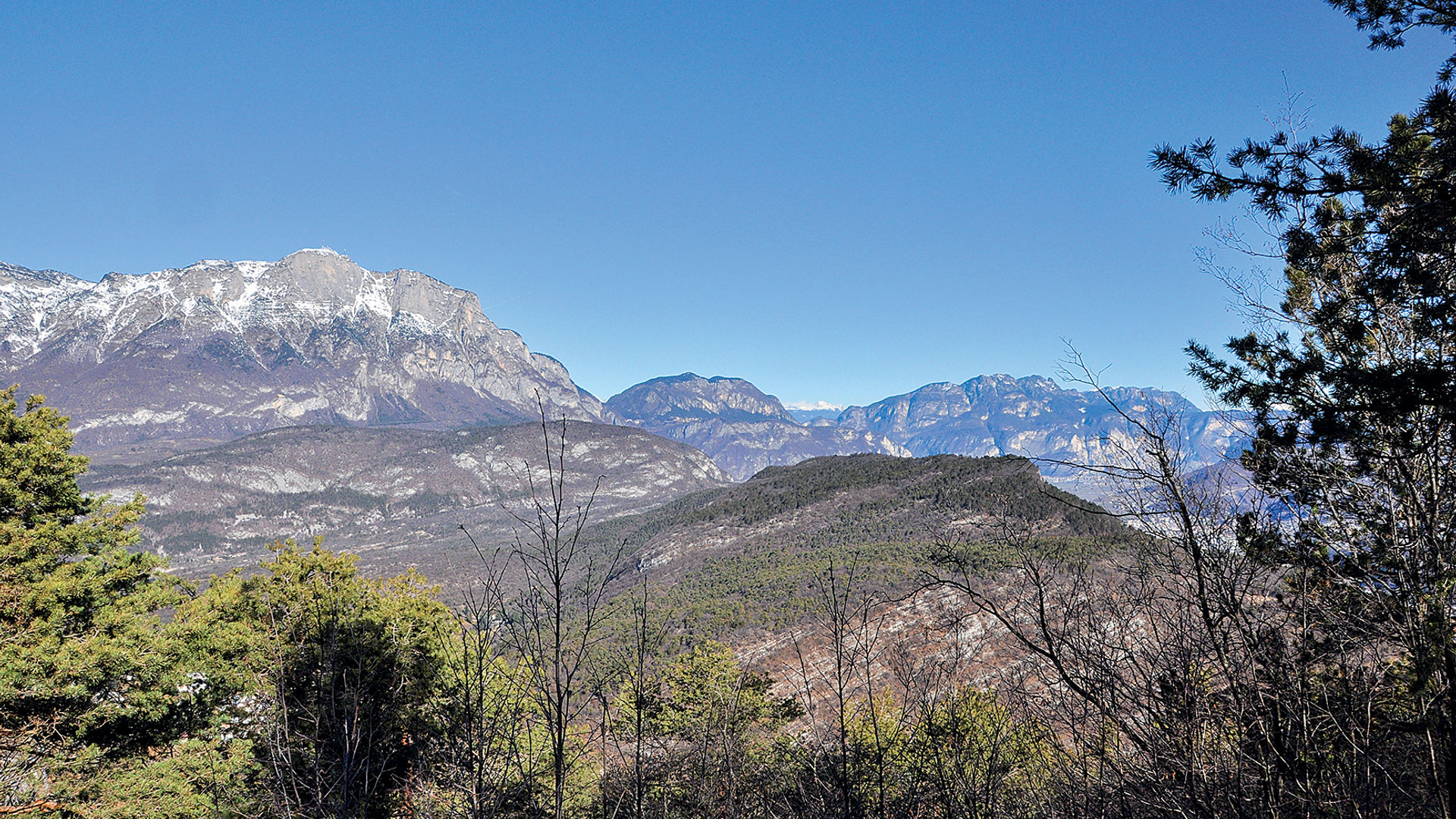 Time of the year: all year round
Duration: 1 hour
Length: 1,8 Km
Il Sorasass e la Paganella viste dal Castelar de la Groa
Castelar de la Groa was a stronghold of the fortified line that climbed Monte Bondone. The easy route starts from the Camponzin pass, and is equipped with signs and illustrative panels. From the parking lot, walk towards the asphalted road and from here follow the signs indicating "Route of the Great War". At the first fork, continue on the road to the right which reaches the top. Arriving at the northern end of the hill, you descend into the woods, where many field works are now buried by vegetation. The military road ends near a stol. From here it is possible to walk along a stretch of trench and then reconnect to the path. Following the signs you quickly return to the parking lot. Shortly before arrival, abandoning the path and going down to the right, you can visit the long trench lower than the stronghold.
The VI sector of the Fortress started near the town of Sopramonte and reached the top of Monte Bondone.
Learn more about the sectors of the defence system of the "Trento Fortress" dating back to the Great War.
Discover all the trekking routes of the Great War in Trento and surroundings.
The path
Fortificazioni ottocentesche del VI settore
Candriai battery
year of construction: 1879-1880
type: battery
ownership: public
open to the public: no
state of conservation: traces
Disarmed in 1915 and demolished after the war
Blockhaus Mandolin
year of construction: 1879-1880
typology: blockhaus
ownership: public
open to the public: no
state of conservation: completely demolished, it came in its place made another building
Disarmed in 1915 and demolished after the war
Difference in altitude
52 m
Route type
circular route
Departure altitude
813 MASL
Maximum altitude
855 MASL
Minimun altitude
807 MASL
Contacts
APT Trento, Monte Bondone
Piazza Dante, 24
38122 Trento
Ph.: +39 0461 216000
Your request was sent successfully
The sending of the request was not successful
I consent to the transfer of my personal data to the recipient of my request for sending the requested information (privacy policy)