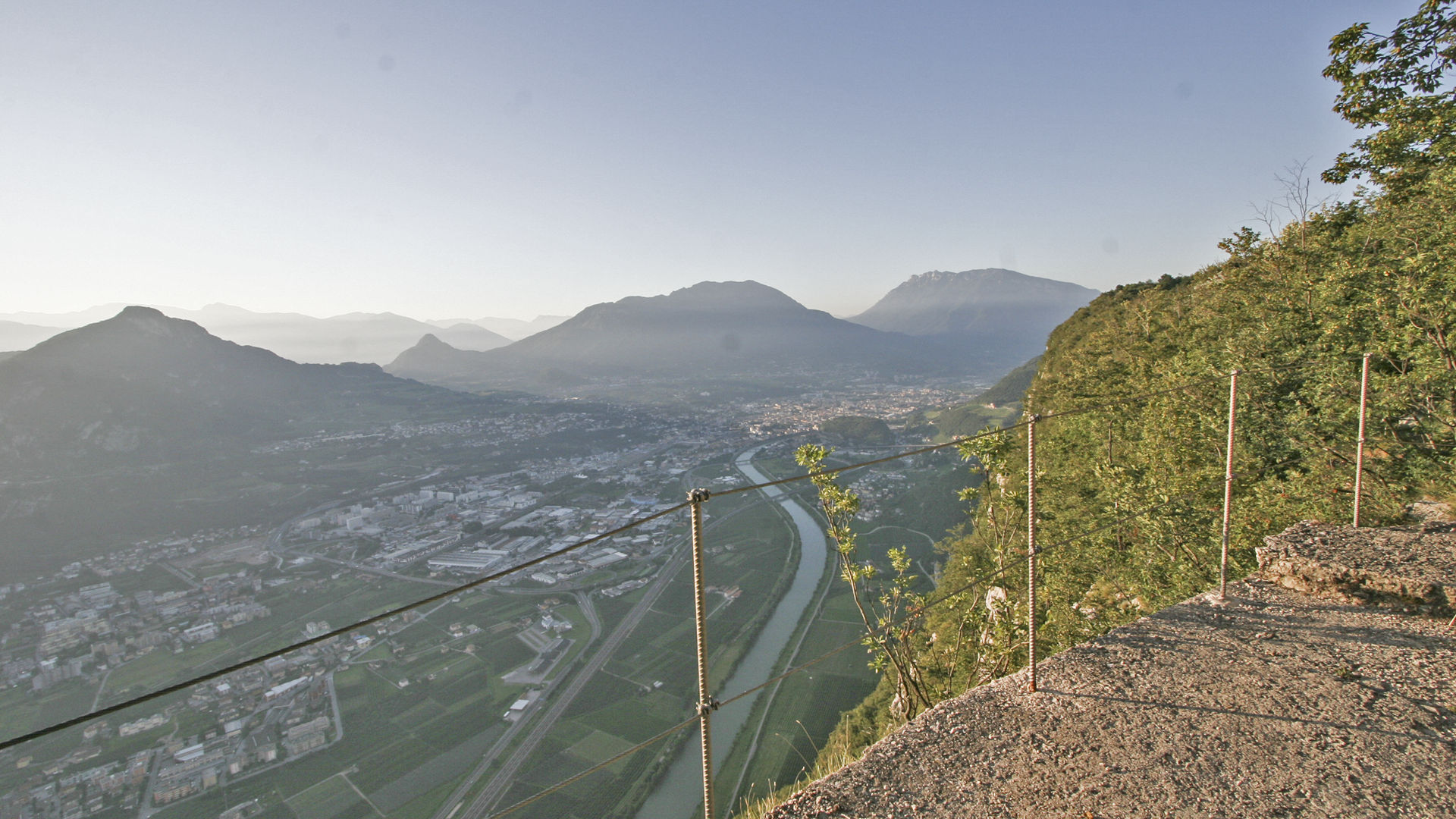 Time of the year: all year round
Duration: 3 hours
Length: 7 Km
Vista sulla Valle dell'Adige dal terrazzino panoramico in località Pontesel
From the village of Cadine, you can reach the locality of Fer de Caval by car. From here, follow the signs for the Sorasass tour. Following the route in a clockwise direction, you first pass the Poza de la Casara and then, with a short detour, you can visit the locality of Spazadomeneghe and its cave batteries that controlled access from the Valle dei Laghi valley. Taking the road back up to the summit of the mountain, you arrive at the locality of Pontesel where you can enter the battery in the cave. The locality takes its name from the panoramic terrace overlooking the Adige valley. Continue along what was once the military road heading south, among the other posts in this sector, arriving at a restored rifle station. From here you return to the starting point along the dirt road.
Sector V of the Fortress included the Soprasasso mountain and the Bus de Vela barrage.
Learn more about the sectors of the defence system of the "Trento Fortress" dating back to the Great War.
Discover all the trekking routes of the Great War in Trento and surroundings.
The path
Nineteenth-century fortifications of the V sector
Fort Cadine - Bus de Vela
The stronghold across the road was built between 1860 and 1861. It had the task of blocking access to Trento, controlling the Bus de Vela. The closure of the road axis was not only entrusted to a gate, but to the entire artefact: this characteristic makes it unique among Trento road cuts. The fort is a construction in limestone ashlars, equipped with casemates for artillery and riflemen. Some service areas are underground: a tunnel led to an artillery emplacement in barbette. The fort was connected with the Dos di Sponde blockhouse above via a military road. Disarmed in 1915, it also served later as a road control. Restored and equipped, it is managed by the Fondazione Museo storico del Trentino and can be visited at certain times of the year.
year of construction: 1860-1861
typology: stronghold across the road "tagliata stradale"
ownership: public
open to the public: visitable
state of preservation: restored
disarmed in 1915
Blockhaus Dos di Sponde
year of construction: 1860-1861
typology: blockhaus
ownership: private
open to the public: no
state of preservation: restored
disarmed in 1915
Difference in altitude
350 m
Route type
circular route
Departure altitude
477 MASL
Maximum altitude
813 MASL
Contacts
APT Trento, Monte Bondone
Piazza Dante, 24
38122 Trento
Ph.: +39 0461 216000
Your request was sent successfully
The sending of the request was not successful
I consent to the transfer of my personal data to the recipient of my request for sending the requested information (privacy policy)