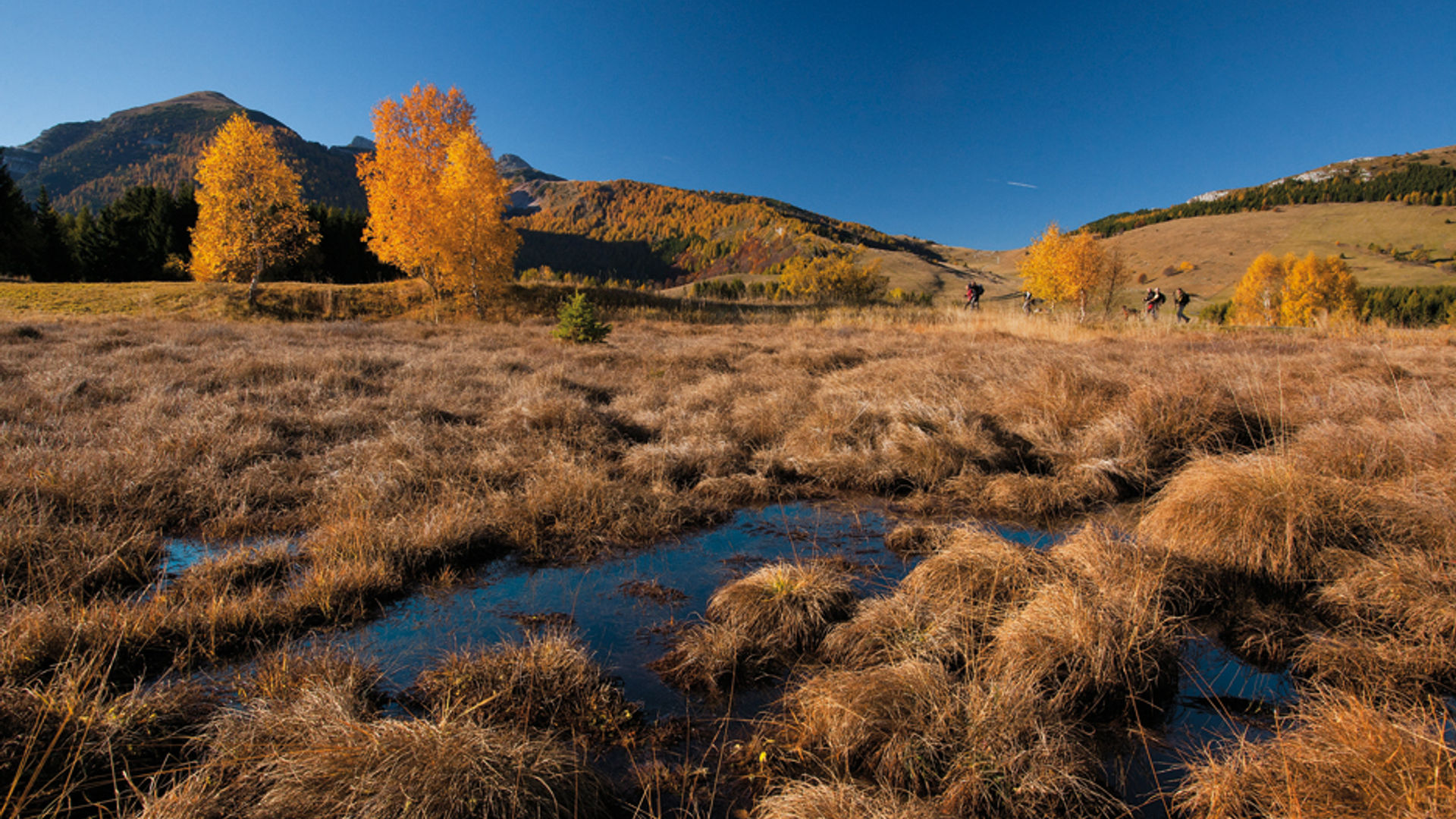 The Viote basin - Monte Bondone
Monte Bondone
Monte Bondone dominates Trento and the Adige Valley with its sheer cliffs and the unmistakable profile of the Palon. The city and its Alpe have always lived in symbiosis, giving each other their riches.
What distinguishes Monte Bondone from the other mountains surrounding the city is the speed with which the Bondone allows its visitors to move from an urban context to a high mountain context, welcoming and with numerous comfortable accommodation facilities. Only a few minutes from Trento, Monte Bondone in short offers fantastic opportunities for a family-friendly holiday in every season.
Monte Bondone is often referred to as the 'mountain of the Trentino people', reflecting the strong bond that exists between Trento and 'its' mountain, a place with a thousand faces and a multiplicity of microcosms that make it unique and full of surprises. In the space of a few months, it is possible to go from walks in the meadows of the malghe (shepherd's huts) and more challenging treks, to the wide ski slopes of the skiarea, from Austro-Hungarian fortifications to the tranquillity of natural corners of rare beauty.
In a little less than half an hour, you can go from hectic city shopping, or from a visit to one of the town's museums, to an environment made up of woods, meadows and peat bogs over which the Three Peaks of Bondone stand guard: Cornetto (2,180 m), Dos d'Abramo (2,140 m) and Cima Verde (2,102 m). Whether summer or winter, from Cima Palon you can enjoy a spectacular view and let your gaze wander 360°: from the Pale di San Martino in the east to the wild peaks of the Brenta Dolomites in the west.
With the chairlift in summer, or skis on your feet in winter, the step from Cima Palon to the Viote plain is a short one. The gentle slopes of this enchanting glacial amphitheatre lend themselves perfectly to Nordic skiing at the Centro Fondo Viote, to a family sledging trip, or to snowshoeing. In the summer, on the other hand, the naturalistic jewel of the peat bog, the dense network of paths and the Alpine Botanical Garden (one of the oldest and largest in the Alps) will allow you to spend unforgettable afternoons in nature.
Monte Bondone is also connected throughout the year by the public transport service to which is added, in the winter period, the free ski bus service.
Highlights of Monte Bondone
So close to the city... and so far from stress. With the family or without, Monte Bondone will know how to relax you, surprise you, entertain you... make you breathe again! In summer, countless trails await you in the enchanting Viote plain, in winter, the excitement of the ski area and its snowpark.